Ace Rewards club members earn rewards points and receive instant savings in store at all Rocky's locations.
It's easy to earn rewards by shopping for everyday items for your home, lawn and garden projects. Just show the cashier your card at checkout — points and discounts are automatic.
Earn 1,000 free bonus points on your first purchase and 10 points for every additional dollar you spend.
A $5 reward for every 2,500 points you earn will be automatically mailed to your home, along with members-only specials and bonus-point offers throughout the year.
Don't miss out on the savings! Join today on the Ace Rewards website.
Existing Members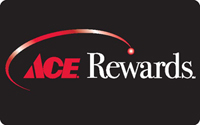 As a Ace Rewards member you no longer have to wait for mail in rebates. You receive your "Rebate" as instant savings in store at all Rocky's locations. Ace Rewards members can access exclusive benefits, account information  Sign in now at the Ace Rewards website.
If you were a member of the Helpful Hardware Club, you are automatically enrolled in Ace Rewards. Your account number has not changed, and both cards are accepted at all Rocky's stores.