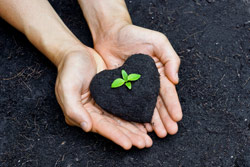 All living things need a constant supply of nutrients for proper growth and development, and your lawn is no different. All plants need a combination of nitrogen, phosphorus and potassium, but how much depends on several factors like the plant type and its climate and other growing conditions. Fertilizers supply these three nutrients to plants, often with additional micronutrients or filler material that allows them to be distributed evenly.
All lawns are deficient in nitrogen because grass quickly uses up the natural supply. A lawn that has enough nitrogen will show healthy vigorous growth, strong root development and dark green coloration. As your lawn grows from year to year, it will use up the natural supply of nutrients available in the soil.
Fertilizer easily replaces the missing nutrients. The easiest way to tell exactly what nutrients your lawn is lacking is with a soil test. Rocky's has partnered with the University of Connecticut's College of Agriculture and Natural Resources to offer soil testing services to our customers. You can stop in at any participating Rocky's store to receive a soil collection bag and detailed instructions. Then collect and bring a small soil sample from your lawn or vegetable garden back to Rocky's. We will deliver your sample to UConn's labs for testing and notify you when your results are in. Learn more about Rocky's soil testing and find out if your local store offers testing services.