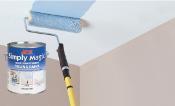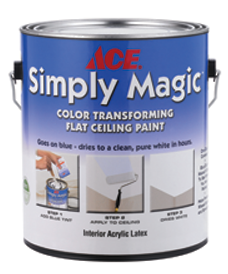 Ace Simply Magic Ceiling Paint was specially designed to make applying ceiling paint easier.
When the patented Simply Magic blue tint additive is added to the paint, it creates a distinct contrasting light blue color making it easy to distinguish the new finish.
Simply Magic Ceiling Paint eliminates the problem of non-uniform application allowing the job to be completed more quickly. The blue tint "magically" disappears within 24 hours resulting in a beautiful, evenly applied finish.
How It Works
1. Add the blue tint into the paint. 
2. Stir thoroughly until mixed. 
3. Apply to the ceiling. 
4. Blue tint will disappear within 24 hours.
5. Enjoy a brand new, beautifully finished, pure white ceiling.

Ace Simply Magic is available at all Rocky's stores.
Features:
For indoor use only
Formulated to minimize drips and spatter for overhead application
One-coat coverage
Goes on blue, dries pure white
Soap and water clean-up
Easy to distinguish the new finish
Matte finish provides a soft beauty to any color scheme
Speeds up the painting process
Helps prevent missed spots
Eliminates the "up and down the ladder" hassle to check for missed spots