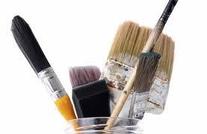 You should select a brush based on the type of paint you are using, as well as the area that you will be painting, and how much control and precision you need.
Types of Brushes
Natural-bristle brushes are made with animal hair. They are used for applying oil-based paints, varnishes and other oil-based finishes. The bristles have natural split ends that hold more paint and provide for a smooth finish.
Synthetic brushes are easy to clean and work well with all types of latex paints. Higher quality brushes will be a blend of nylon and polyester providing durability and excellent shape-retention. They are also available in polyester only.
Brush Sizes
Brushes are available in a wide variety of sizes. Much depends on your comfort level and preference, but here are some general rules of thumb:
1″ to 2.5″ – window trim, moldings, baseboard and other small areas
3″ – 4″ – exterior trim or siding, decks, fences, walls, ceilings and doors
Brush End Types
Chisel – slanted bristles produce a straight line, good for trimming in corners and edges
Square – used for applying paint over flat areas
Angled – offers full control for narrow spaces and ceiling lines