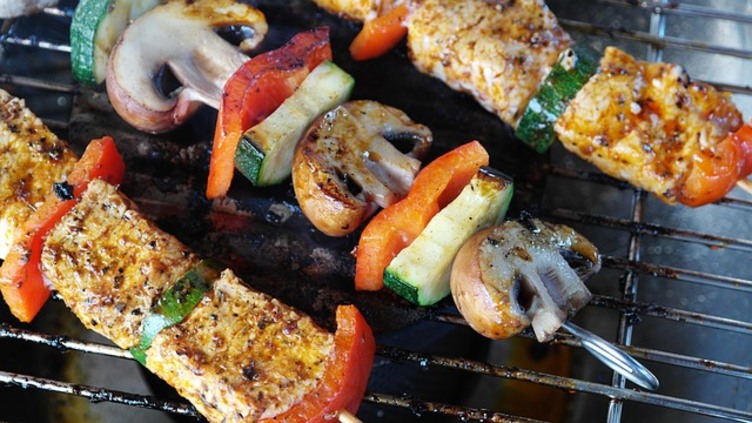 Cooking on your patio just got simpler and more delicious.
Grilling is supposed to make summer living easier. You don't heat up the kitchen. You can throw just about every food group on the grill. Whether you're entertaining friends or cooking for yourself, you can grill juicy chicken, perfect steak and tasty vegetables.
Easiest Grilled Chicken
This recipe takes a little foresight, but it doesn't require much cooking time. Marinate the chicken overnight for the juiciest results.
Ingredients
1/2 cup balsamic vinaigrette
1/2 cup teriyaki sauce
2 cloves garlic, minced
4 boneless, skinless chicken breasts
Directions
Cut each chicken breast in half. Combine the vinaigrette, teriyaki sauce and garlic in a large plastic zippered baggie. Add the chicken to the bag, make sure that it's well coated, and place it in the refrigerator overnight. Cook on a medium-hot grill for about 10 minutes on each side.
Ribeye With Grilled Arugula Salad
Get a great sear on this steak by using a cast-iron grill pan. Make the peppery salad using the juices from the steak.
Ingredients
Ribeye steak
Salt, to taste
5 cups arugula
Loaf of brioche, cut into small squares
Olive oil
Directions
Place the cast-iron grill pan on the grill grate, and preheat the grill until it's piping hot.
Pat the steak dry. Liberally salt both sides of each piece of meat. Sear the steak on the grill pan for about 3 minutes per side. Kitchn explains how to tell if your steak is done.
Remove the steak from the pan. Add the brioche squares, and toss them until they're crispy. Remove them from the pan.
Place the arugula on the pan. Toss it until it begins to wilt. Remove the arugula and place it in a bowl. Drizzle it with olive oil. Add the croutons to the greens, and serve the salad alongside the steak.
Grilled Veggie Kabobs With Chimichurri Sauce
Take grilled vegetables to the next level with a green sauce that's packed with flavor.
Ingredients
Vegetables
1 sweet potato
4 small red potatoes
1 red bell pepper
1 yellow bell pepper
1 red onion
Package of baby portabella mushrooms
Olive oil
Salt and pepper, to taste
Chimichurri Sauce
5 cloves garlic
1 jalapeno pepper
1 cup fresh cilantro
1 cup fresh parsley
1/2 ripe avocado
Salt, to taste
3 tablespoons lime juice
1 tablespoons maple syrup
4 tablespoons olive oil
Directions
Chop all of the vegetables into large pieces. Pre-boil both types of potatoes by adding them to a large stock pot and covering them with water. Bring the water to a boil. Cook for about 10 minutes or until the potatoes are tender but not falling apart.
Thread the vegetables and potatoes onto skewers. Brush them with olive oil, and sprinkle them liberally with salt and pepper. Cook them over a medium-hot grill for about 10 to 15 minutes, flipping them halfway through.
While the vegetables are cooking, make the chimichurri sauce. Place all of the ingredients for the chimichurri in a food processor or blender. Process until the mixture is smooth and creamy, scraping down the sides if necessary. The sauce should be thick but easy to pour. Thin it with water if it's too viscous.
Get your grill on with these easy recipes that make you look like an expert even if you're a beginner. Buy the best grill for your needs and shop for grilling tools to make the job even easier at Rocky's Ace Hardware.