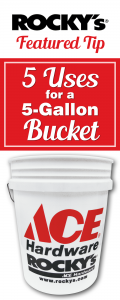 Did You Ever Think It Could Be So Versatile?
When you see a 5-gallon bucket at the hardware store, do you just walk right by it? Now you'll view it in a whole new light. Check out the ideas below to take this affordable, easy-to-find container to the next level.
Upside-Down Hanging Planter
Vegetables that grow on vines, such as tomatoes and cucumbers, develop well when planted in an upside-down container. To build your own, drill a hole approximately 2 inches wide in the center of the bucket's base. Insert a small plant through the hole with the roots inside the bucket and the foliage on the outside. Place a few pieces of tissue paper around the roots to prevent soil from spilling out. Fill the bucket with a lightweight potting soil mix. Hang the bucket on a secure hook, and water it regularly.
Sweet Seating
You can transform a large bucket into a stool that doubles as storage space. Cut a wood circle to fit over the bucket's lid. Arrange batting or a foam disc on top of the wood circle and encase it in fabric to make the seat. Use hot glue to secure the seat to the bucket's lid. Spray the bucket with paint to personalize it with your favorite color.
Bird Condo
Drill holes approximately 1.25 inches wide in the side of the bucket using a hole saw, and sand the edges until they're smooth. Glue plastic shelf brackets outside the holes to serve as perches. Attach the lid to the bucket and use spray paint to decorate it. Hang the bucket over your garden, and invite the birds to inhabit their new home.
Emergency Kit
Customize a survival kit that has everything you need in case of a natural disaster or crisis. You might include soap, toilet paper, batteries, matches, flashlights, sewing supplies, a can opener, a knife, tweezers, gauze and bandages. Create a document that lists everything that's in the kit as well as important phone numbers. Secure the lid and store it in a convenient place. Hope you'll never have to use it.
Garden Hose Holder
Secure the bucket to a post on your fence or the side of the garage using several screws. You'll be able to wrap the hose around the outside of the bucket and use the interior to hold garden tools or sprinklers. If you don't want to mount the bucket, you can simply coil your hose inside of it so that it's portable.
If you're inspired to get crafty with a 5-gallon bucket, you can find more ideas at Five Gallon Ideas online. Get all of your supplies at Rocky's Ace Hardware so that you can get started.