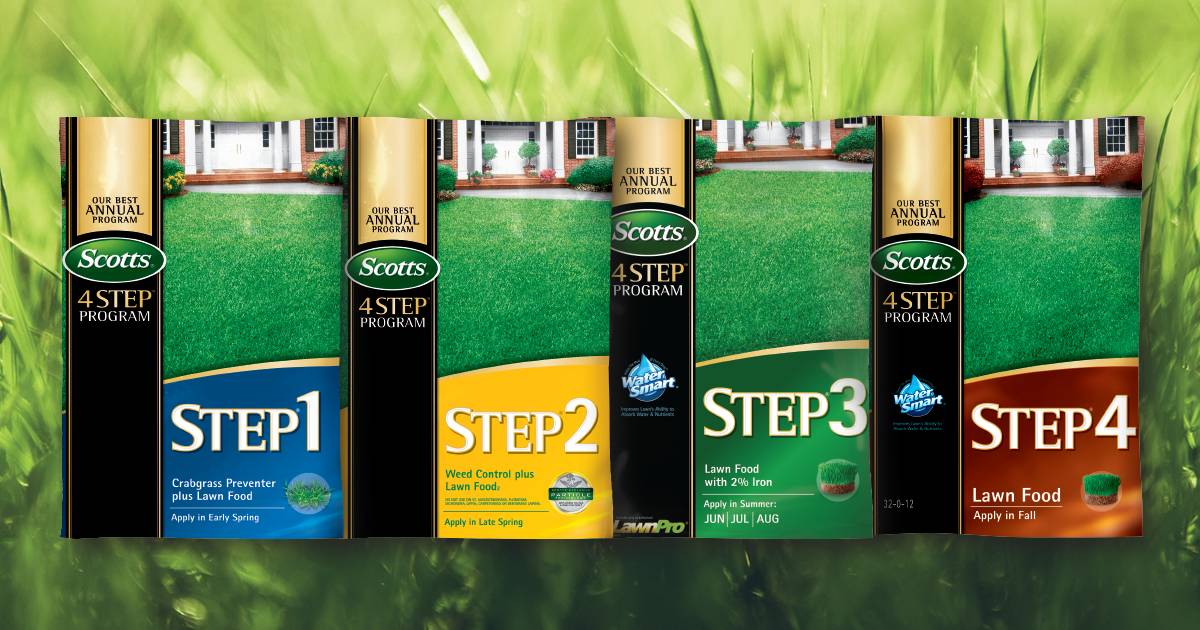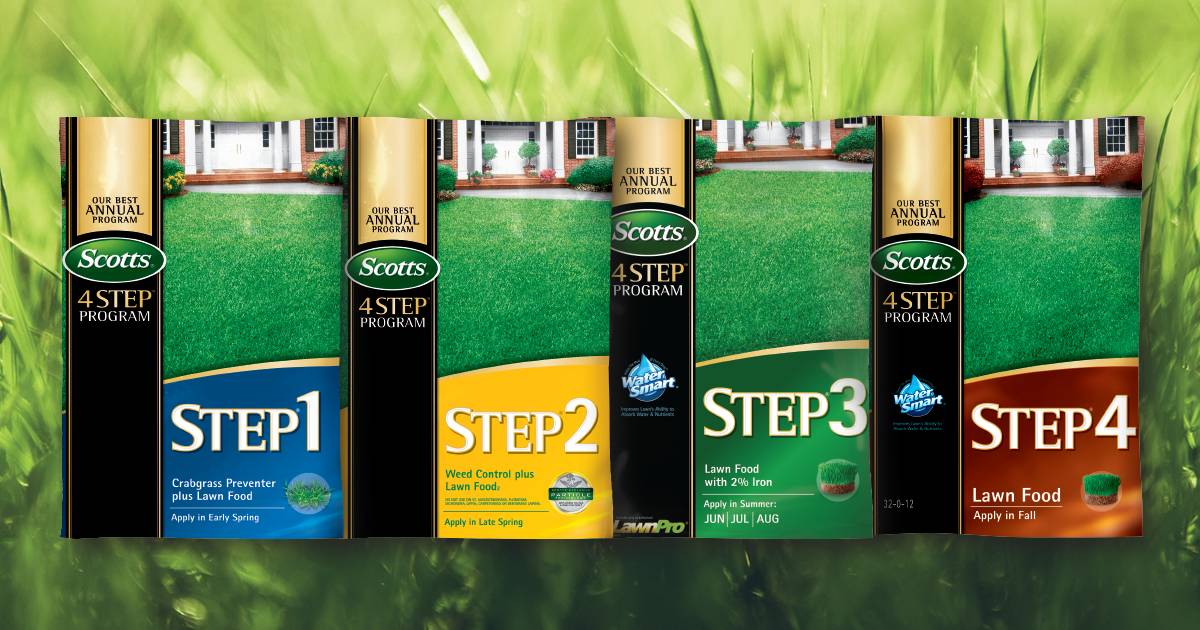 After being beaten down by snow and ice during the winter, your lawn will be hungry once spring has finally sprung. If you want your lawn to come back to life faster with lush green grass, we recommend you treat it to a four-course meal with Scotts® 4-Step® Program. Here's a preview of what will be on the menu.
Preparation
The first step to catering your meal is giving your lawn a quick spring cleaning. Use a rake to clear out dead grass and weed remnants. Collect and discard any sticks or other debris that have settled onto your lawn during the winter months. Next, it's time for your lawnmower to make its season debut. Set your cutting deck to the highest possible height to help grass grow thicker with deeper roots.
First Course
Kick off your lawn's feeding program with Scotts Step® 1 Crabgrass Preventer Plus Lawn Food. This step should be applied in early spring, between March and April, when temperatures are still cool. Step 1 prevents weeds, like crabgrass, before they can germinate, for up to four months, and helps to green up your winter-battered lawn. We recommend adding treatments of lime and grass seed during this course. The lime will counteract the acidity of the soil and restore depleted nutrients, and grass seed assists with any patching on the lawn and grows quicker, thicker, greener grass.
Second Course
Scotts Step® 2 Weed Control Plus Lawn Food should be applied in late spring, anytime between May and June, but be sure to wait 4–6 weeks between Step 1 and Step 2. This meal builds thick, green grass from the roots up and kills broadleaf weeds, like dandelions, while feeding and nourishing your lawn. Using Scotts® Exclusive Particle Technology, Step 2 attacks the weeds you see and the ones you don't. This step works best when applied on a damp lawn on a calm day when rain isn't expected for at least 24 hours.
Third Course
At this point in the meal, your lawn will need a pick-me-up, and that's where Scotts Step® 3 Lawn Food with 2% Iron comes in. This step gives a mid-season boost to feed and strengthen your lawn against the heat and drought of the summer. We recommend applying this step between July and August, and if rain is not expected, immediately water following the application.
Final Course
Finally, complete your lawn's feeding with Scotts Step® 4 Fall Lawn Food. This step is best applied in September or October and 4–6 weeks after you've applied Step 3. Step 4 helps strengthen your lawn by building stronger roots before the chill of winter rolls in, and guarantees you'll see a thicker, greener lawn next spring. Add a feeding of Scotts® Turf Builder® WinterGuard® Fall Lawn Food to deliver nutrients to your lawn and improve its ability to absorb water.
À la Carte
Along with the Scotts 4-Step Program, we recommend you incorporate these products as required to make the most of your lawn's meal:
Scotts GrubEx®: One application kills and prevents grubs, for up to four months, and can be applied from April to July.
Scotts DiseaseEx™ Lawn Fungicide: Cures an array of lawn diseases including brown patch, stem & stripe rust, summer patch and more. This treatment controls lawn diseases for up to four weeks.
Scotts Moss Control Granules for Lawns: Kills moss on contact and contains added nutrients to strengthen and green your lawn once the moss is gone. Apply in winter or spring when moss is actively growing.
Rocky's offers an assortment of insecticides to kill and repel unwanted pests. Works best if applied between March and October.
If you've decided it is time to take your lawn out for a nice meal, stop by your local Rocky's Ace Hardware and let our professional staff make sure you've got all the right ingredients. Don't forget to grab a copy of our lawn care schedule while you are there or download it here!