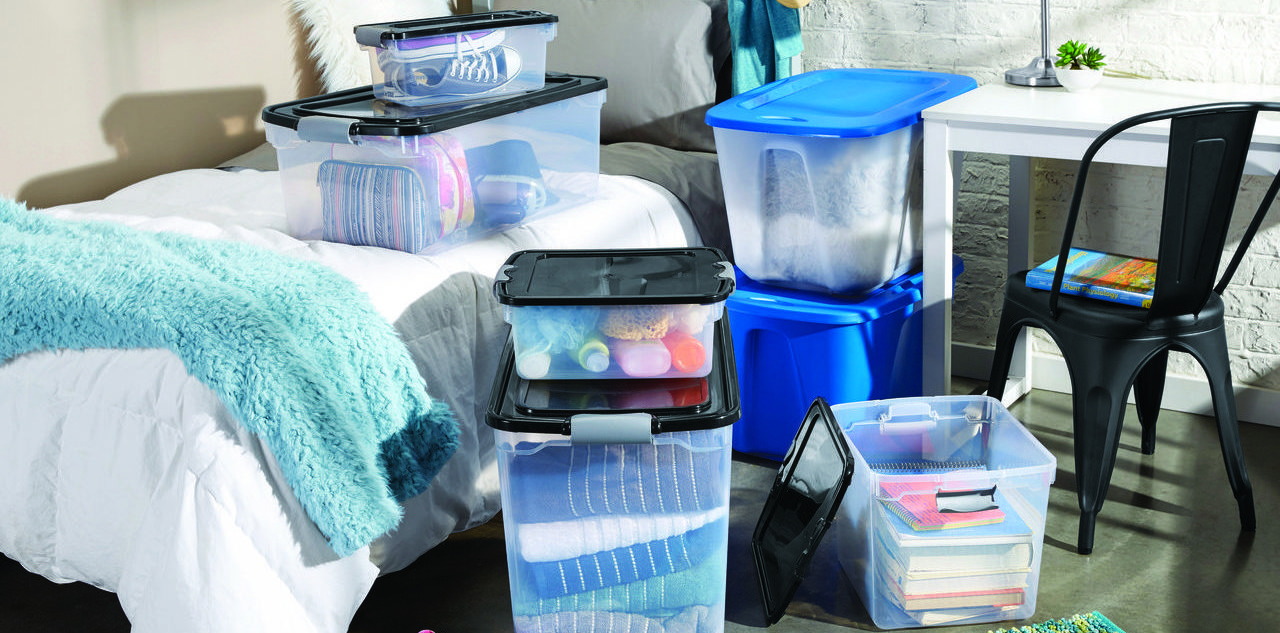 Why is it that you can never pack away the same stuff  in the same way twice? The holidays are over and as you're taking down your string lights and holiday decorations, you realize that you can't fit everything back into the bins they came out of. You try to rearrange the contents a bit and maybe you even try to sit on the lid, but the cover just refuses to snap back on. Well, don't worry, we're here to help you start the new year off right with a few simple organization tips. We'll make storing away your old decorations a problem of the past.
Reduce
Before you can begin to store away and organize, first you need to purge. It's always tempting to put those broken, tangled, and defective decorations back in the box and keep them as a problem for next year. Maybe by next year you'll make the effort to fix that one bulb. Maybe by next year you'll glue the head back on your snowman figurine. Maybe by next year you'll find the stand to that miniature Christmas tree.
It's time to grab out some trash bags and throw away your excuses. If they spent the entire month never making it out of the storage bin, then it's time to toss them. If you have a busted family heirloom that you can't toss, buy some gorilla glue and do what you can. But if it's replaceable, use it as an excuse to go shopping next year.
Storage
If you've gone through everything, and still find yourself with an abundance of decorations and a shortage of bins, then here are a couple more tips to finding the right storage solutions for you.
One of the larger but often overlooked issues when selecting storage bins is location. If your preferred place is a basement, shed, or garage, it's important to look for weatherproof alternatives, especially if you live in colder climates or areas that are prone to flooding. Bins, such as the Homz Durabilt Stackable Utility Tote, made with weather resistant material might be the way to go.
Even if your basement is relatively dry, you may still have issues with extreme temperatures, which is even truer if you decide to opt for storing your decorations in an attic. In places that are more temperature sensitive you will want to look for something that can withstand both highs and lows such as the Rubbermaid Roughneck. Higher temperatures especially can be detrimental to ordinary totes making the plastic soft and collapsible which can then destroy the contents. While cold temperatures may not affect the totes directly, a cheaper tote, not braced for the varying weather, may not be able to protect what's inside. If you have wood, antiques, electronics, or paper products in your storage, you will want to make sure that you choose a more durable tote.
On top of our weatherproof and outdoor options, we also offer r shorter bins for under your bed or other low clearance areas, see-through bins for easy content recognition, and bins with wheels for heavier decorations. So no matter what you have and where you need to store it, we have what you need.
Packing
You have reduced your decorations and selected your storage options, now it's time to pack everything away safely for next year.
Christmas Trees & Wreaths – While they may not drop as many pines as a real tree, the shedding on artificial trees and wreaths can prove tiresome. Our suggestion, bags. Wrap your fake pines in shrink wrap, plastic storage containers, or even trash bags. If you're storing them in a basement, quick tip, store them with a container of baking soda or coffee grounds to prevent them from developing an odor.
Ornaments – Protect your ornaments by using special bins or even by putting them in egg cartons. Use plastic bags for sensitive ornaments to reduce scratching over the next few months. You can recycle the tissue paper from your gifts or use even some bubble wrap to secure your more fragile ornaments.
String Lights – Perhaps the most irritating part of Christmas decorating is unwrapping your string lights. Defeat this problem early by wrapping your lights around reels for tangle-free storage.
Unused Wrapping Paper – If you have unused gift wrap left over, put it in an under-bed storage container. Or, depending on your usable space, you can also set them up in a small trash. If you're worried about mold – just put a trash bag over the top and tie it around the can.
Smaller Parts (spare bulbs, hooks, ribbons, bows, labels etc.) – Put your smaller parts in a designated tool kit. You can separate each of the sections out and keep them from falling into the storage bins. And until January 31, our Stanley Sortmaster Lite Organizer is on sale for only $5.
We know that after the holidays, clean-up and storage can be stressful. With these tips, we're sure that you will have no trouble with packing away your decorations for next year. And if you're still unsure of which storage options are right for you, stop in to your local Rocky's Ace Hardware and we will be happy to help.