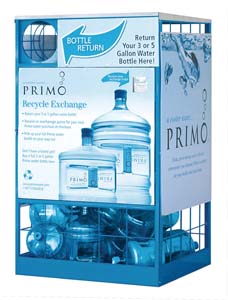 Select Rocky's stores now offer Primo-brand bottled water. In thousands of blind taste tests conducted nationwide by an independent agency, 3 out of 4 consumers preferred the taste of Primo over the nation's top-selling spring waters.  4 out of 5 preferred Primo over tap water.
Primo Water is purified to the highest industry standards using a 9-step process:
Coarse Filtration
Fine Filtration
Carbon Filter
Softener
Ultraviolet Sterilization
Reverse Osmosis
Mineral Addition
Ozonation
Bottle Inspection and Packaging
Primo Water's "Zero Waste" Exchange Process. Purchase a bottle of Primo Water at select Rocky's Ace Hardware locations in Florida and Massachusetts.
Return your empty bottle to the participating Rocky's for recycling and get a ticket for a discount on your next purchase. Buy your next bottle of Primo Water and save! Primo Water sterilizes and reuses each bottle up to 40 times. Once they are no longer able to use the bottles, the plastic is recycled to become other products, such as carpet fibers and other packaging materials.
That's how they achieve Zero Waste and that's what makes Primo the responsible choice. Primo Water Exchange Centers are located at the following Rocky's Ace Hardware locations:
Florida
Port St. Lucie
Tequesta
Wellington
Massachusetts
Agawam
Canton
East Longmeadow
Ohio
Centerville - Clyo Road
Centerville - Cross Pointe
Dayton - N. Main Street
Dayton - Wilmington
Fairborn
Kettering
Miamisburg
New Carlisle
Springfield
Xenia
By keeping 370,000,000+ single-use bottles out of our landfills, Primo Water has saved over 44,000+ barrels of oil (or more than 1.8 million gallons)!