Rocky's carries name brand snow blowers like Ariens, EGO and Craftsman.  These are the most trusted brands in the market. When the next winter storm hits the Northeast and we know it will, get ready and prepared with the equipment that will get the job done. We'll help you find the brand with the features and benefits you are looking for.
Ariens, made in the USA since 1892, is known as the "The King of Snow".  These machines are passed down from generation to generation. They are known for large impeller, auto-turn steering technology and all steel frame and dash. Ariens machines blow snow up to 50 feet away.
EGO snow blowers are the only cordless snow blowers that are as powerful as gas. EGO combines the power of any two ARC Lithium batteries for the power to clear heavy, wet snow.  You can easily adjust the variable-speed auger to control how far the snow is thrown up to 35 feet.
Craftsman Tools and Power Equipment have been known for their quality and innovation for over 90 years. Craftsman snow blowers stand out in their performance and vast features. They are sure to meet the price point needs of the average homeowner.
To learn more or have questions ask your local Rocky's Ace Hardware Associate.
SHOP ONLINE
or check the inventory at your local Rocky's Ace Hardware store.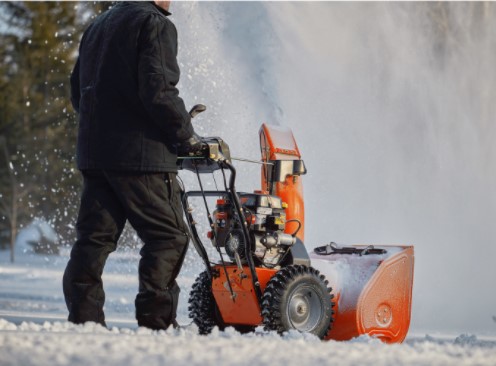 Whether you are a landscaping professional or a homeowner maintaining your property, we offer an extensive lineup of winter equipment to meet your needs.  We are your headquarters for reliable winter equipment. Our stores are stock full of winter maintenance items that include large assortment of snow shovels, ice melt and even Deicer windshield washer.  If you have questions, your local Rocky's Ace Hardware Associate will be there to help.