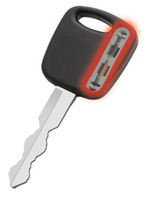 Rocky's offers standard key duplication and digital auto key service at most stores. We carry a variety of colors, sizes and styles to choose from. Key cutting is professionally done while you shop and the quality is guaranteed.
Anti theft auto keys, or "ChipKeys" are now standard with most cars and trucks. These keys have a computer transponder chip in the head of the key that is programmed to your vehicle's security system.
Any duplicate or replacement key needs to be programmed with the same code as your vehicle, or it will not start the ignition. We can cover 92% of the vehicles on the road today and you'll save up to 60% over dealership pricing.
Click Here to see if we have your key!
Frequently Asked Questions:
How do I know if my vehicle needs a ChipKey?
A Rocky's technician can perform a simple test to see if your car requires a ChipKey. Simply bring your current car key to any Rocky's with ChipKey technology
If I replace a ChipKey with a standard plastic-head key, will it still work?
No. A standard key could be cut to open your doors or trunk, but unless it contains a computer chip with a code matched to your security system, the ignition will not turn on.
Why do I need a spare ChipKey?
If your car requires a ChipKey and you lose the original without a spare set, the vehicle will need to be towed to a dealership. From there, they will have to reprogram your car's security computer. Keeping at least one spare ChipKey will stop you from wasting time and money.