As environmental issues continue to pick up steam, many consumers are turning to fans as a lower cost and environmentally safe cooling alternative. Fans, as a whole, use little energy compared to other cooling methods, and their low price point attracts cost conscious customers.
WINDOW FANS
A window fan can add greatly to the comfort of a home. It is an alternative to air conditioning and will save energy. It may be used to expel warm air or to draw in cool air.
Most window fans have a 20″ diameter, although smaller units are available. The majority require mounting kits and side panels. The panels, in addition to supporting the fan, prevent air from circulating around and back into the fan, which could result in a performance loss of as much as 8-10 percent.
The newer, smaller fans come with side panels in place, so all the do-it-yourselfer has to do is open the window, stick the fan in and switch on the power.
Some models are made to permit the window to be closed with the fan mounted in the window frame.
Deluxe models are thermostat controlled and may have as many as six speed selections. The thermostat is an advantage in areas where there is considerable variation between day and night temperatures.
Some models feature electrical reversibility, enabling the user to switch the fan from intake to exhaust, or vice versa, without turning the fan around.
A stand mounted fan can be moved from room to room or away from the window. Tilt knobs allow the user to position the fan at the angle that best suits the purpose.
When used for exhaust, stand mounted fans should be positioned about 2′ to 3′ away from the window; for intake they should be placed as close to the window as possible. Some models can be removed from their stands and used as conventional window fans.
To cool one room, a window fan should be run on intake with a second window open to serve as a vent. However, if the fan is to cool several rooms, it should be run on exhaust, and windows and connecting doors of the rooms to be cooled should be opened.
An efficient 20″ fan can change the air approximately once a minute in a 2,400-cu.ft. area (e.g., a room measuring 20′ x 15′ x 8′).
A typical portable fan uses 50 to 200 watts.
FLOOR FANS
Floor fans provide a pattern of air movement to cool and circulate air without causing drafts.
Fan sizes are generally 10″ to 12″ in diameter, mounted in rectangular or round, hassock type cases. A hassock fan will throw air outward and upward in a 360 degree direction.
A rectangular fan will tilt about 170 degrees and may be used as a table fan, throwing air current outward. As a floor fan, it can be tilted to throw the air upward, or it can be wall mounted and tilted at any angle desired.
Some of the more expensive floor fans have speed selection controls; others run at a fixed speed.
OSCILLATING FANS
Oscillating fans with a circular grille varying in diameter from 8″ to 16″, may be used on the floor, on a table or wall mounted. They do not have as high an air delivery as some floor fans.
The tilt angle varies from about 50 degrees to 90 degrees and the oscillation, which has a radius of 90 can be switched off by the twist of a knob.
With all fans, care should be taken to assure that the grille work is close enough not to pose a danger to small children who may put their fingers in far enough to touch the blades. If the grille work is large enough that this possibility exists, the fan should be placed out of reach.
EXHAUST AND WHOLE HOUSE FANS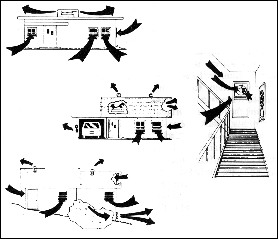 The primary use of an exhaust fan is to extract stale air from an attic, kitchen or bathroom.
Fitted above a kitchen range or under a range hood, a 10″ exhaust fan will prevent smoke and grease from accumulating in the kitchen and from spreading throughout the house. The switch simultaneously starts the fan and opens the outside vent.
Bathroom exhaust fans may have a light or heater or be only a fan. Separate switches allow one, both or all three services to be operated independently or together.
Wholehouse fans draw hot air from the living area into the attic where it is vented. Installation and operation is less costly than an air conditioner, and used alone, it can keep a gentle breeze stirring through the house that will make the temperature seem 2 to 3 degrees cooler.
Most wholehouse fans have louvers that open automatically when the fan is running and close when the fan is off. This way, the louvers seal out hot air in the summer and cold air in the winter. Automatic switches are available for single speed fans only. Some fans have variable speed motors that cool the house at a higher speed and then maintain a general circulation of air throughout the house when turned down.
Wholehouse fans are rated according to the measurement of cubic feet of air per minute (cfm) that they move.
Exhaust fans carry certified sound ratings developed by the Home Ventilating Institute and its member manufacturers. These ratings provide dealers with reliable guidelines for noise level and air movement.
Sound levels are stated in sones, internationally recognized units of total loudness. Ratings are in steps of 0.5 sones and 10 cfm. Multiple speed fans must be rated at maximum speed but can also be rated at lower speeds. Limits for sound outputs are 6.5 sones for bathroom fans and 9 sones for kitchen fans up to 500 cfm.
CEILING FANS
Aside from their decorative and fashion functions, ceiling fans create a gentle indoor breeze that eliminates stale odors, repels insects and supports heating and air-conditioning systems on less energy than is used by a 100 watt light bulb. Homeowners use them in all rooms of the home to allow energy saving thermostat settings.
Many top of the line models feature quality cast iron motor housings, pull chain switches, reversible motion and precision- pitched blades for maximum air movement. Blades may be manufactured of real wood, metal or plastic. A heavy material motor housing will aid fan efficiency; the mass gains momentum, reducing the energy necessary to keep the fan in motion.
Ceiling fans are available in several styles, sizes and with a number of accessories. The fans generally come in 36″, 42″, 48″ and 52″ blade diameters, as well as 56″ to 72″ industrial models. Naturally, the larger the room, the larger the diameter that is required to circulate the air efficiently.
Most fans have more than one speed; some are variable speed. They have heavy-duty, induction- type motors that run quietly on leak proof circulating oil bath lubrication. They also have permanently lubricated, sealed ball bearings. Ceiling fans never interfere with television or radio reception while in operation.
Standard mounting kits are available for ceilings as low as 8′, and close to the ceiling models can be used on 7'6″ ceilings. Some are available with light adapter kits.
---
Check your state and local codes before starting any project. Follow all safety precautions. Information in this document has been furnished by the North American Retail Hardware Association (NRHA) and associated contributors. Every effort has been made to ensure accuracy and safety. Neither NRHA, any contributor nor the retailer can be held responsible for damages or injuries resulting from the use of the information in this document.