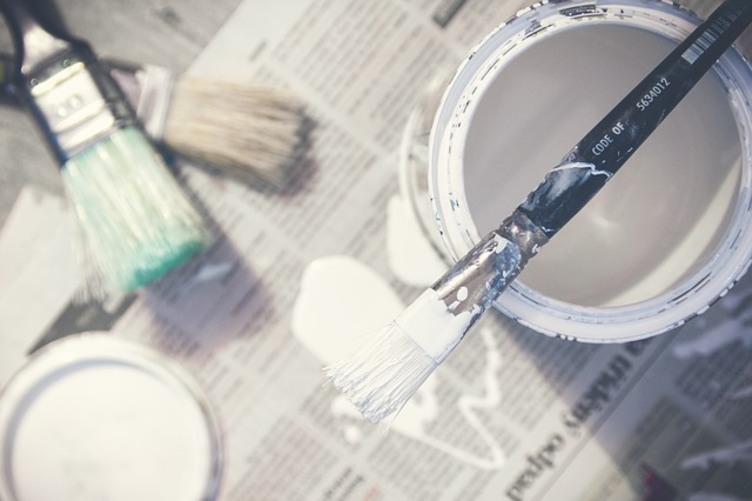 The right paint for every project makes home improvement more fun.
When you paint your house, choosing the right kind of paint for the project is key. You wouldn't want to put deck paint on your dining room walls because it isn't designed for that. Also, don't skimp if you want a professional-looking result. High-quality paint lasts longer and covers better in fewer coats. You can get more painting done in less time, and you will repaint less frequently, so it's worth paying more for paint that performs. Benjamin Moore paint ranked consistently among the top three brands in J.D. Power's 2017 consumer paint satisfaction survey, so you know you are getting great value.
Benjamin Moore Interior Paint Choices
Aura is the flagship of the manufacturer's interior line, and it has some advanced features that help you be successful, even if it's your very first time out. Aura features Color Lock, which prevents fading over time, so it's especially good for rooms that get lots of light. Select Aura Bath and Spa for areas that are exposed to moisture.
Self-priming Natura interior paint is a natural for bedrooms because it does not emit chemicals into the environment, plus it is certified to be hypoallergenic and asthma-friendly. Natura is quick to dry, allowing you to apply a second coat just an hour after you finish the first, so the room is ready to use again the same day.
You can also go with the manufacturer's tried-and-true Regal Select paint as well as its Ben line for interior projects. Self-priming, spatter resistant and washable, these low-odor paints work well anywhere in your home and come in several finishes, from flat to semi-gloss. When it's time to touch up your doorframes, baseboards and cupboards, specially formulated Advance paints deliver the durability and color palette you need.
Exterior Paints and Stains
Your choices in Benjamin Moore paint for exterior applications consist of:
Aura Exterior with Color Lock
Regal Select Exterior
Regal Select Exterior High Build for a protective finish in fewer coats
Ben Exterior
The variety of exterior lines affords you the flexibility to stay within budget while getting a quality finish that passes the test of time. If you prefer stain over paint, the manufacturer has you covered, with Arborcoat for wood, stucco, brick and cement board exteriors. It provides protection from damaging ultraviolet rays for long-lasting performance.
Get the Paint
Rocky's Ace Hardware stores have a complete selection of interior and exterior Benjamin Moore paint, so you can get everything you need in a single stop. Our knowledgeable paint specialists are always on hand to help you make the smartest selections for the space. Get in touch with us today, and get going tomorrow.