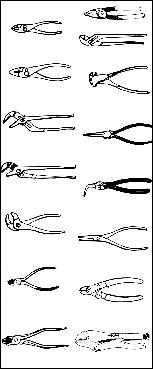 Top quality pliers are forged from fine-grain tool steel, machined to close tolerances with hand-honed cutting edges properly hardened. They are polished, adjusted and inspected.
Pliers fall into two broad categories-solid joint and slip joint, either of which may have cutters. Pliers vary in length from 4″ to 20″.
Slip-joint pliers are of two designs-multiple hole and tongue and groove. The slip or adjustable joint enables the tool to adjust to the size of the object being held.
Solid-joint pliers have a joint fixed with a solid pin or rivet and are not adjustable.
Cutting pliers are of three types-side, end and diagonal cutters.
Side cutters have a cutting blade on one side only and are available in long, curved and short-nose types. End cutters have cutting blades on the end and are used to make sharp, clean cuts close to the surface on wires, bolts and rivets. Diagonal cutters have two cutting blades set diagonally to the joint and/or handles. Shears have cutting edges that pass each other.
Some pliers are available with factory-applied, plastic-coated handles, providing an attractive appearance and comfortable grip. However, pliers manufacturers strongly recommend that baked-on plastic-coated handles not be relied on for electrical insulation.
Some cutting pliers are made with a spring in the handle to open them automatically after each cut, providing ease and comfort for the user.
The following list includes pliers most commonly found in hardware stores and home centers.
Regular slip-joint pliers – General utility pliers with two jaw-opening adjustments. Some have a shear-type wire cutter.
Thin-jaw slip-joint pliers – Like slip-joint, but made with a slim nose to reach into tight places.
Plumber's special pliers – Come with smooth jaws or jaws covered with a soft material to prevent scratching when used on plated plumbing fixtures.
Multiple slip-joint pliers – General utility tool with up to eight adjustments, allowing for jaw openings up to 4 1/2″. . . either multiple hole or tongue and groove. Straight and curved jaws are available. Most common is 10″ water-pump plier.
Parrot-nose wrench pliers – Combination pliers and pipe wrench with 75° offset nose. Noted for grip; ideal for pipe and tubing.
General utility or water-pump pliers – All-purpose pliers with as many as five jaw-opening adjustments. Teeth are shaped for positive grip on round objects.
Crimper stripper pliers – Multipurpose electrician's pliers to crimp solderless connectors, strip most common gauge wire, cut and hold or bend wire. Also have sheaving holes which cut common sizes of screws without deforming threads.
Diagonal pliers – Cutting pliers with cutters positioned diagonally to the handle to provide leverage when pulling cotter pins. Also used for general cutting by electricians, mechanics.
Needle-nose pliers – Have a pointed nose for reaching places with restricted clearance. May have side cutters. A standard item for all electrical and electronics work.
Curved thin needle-nose pliers – Nose is bent at about 80° angle for reaching around objects.
Duckbill pliers – Have long, tapered, flat nose for work in restricted places. Used by jewelers, telephone workers, weavers.
Wire strippers – Feature adjustable stops to cut insulation without damaging wire.
Midget pliers – Include straight, chain, round, end-cutting, diagonal-cutting and flat-nose pliers in extra-small sizes. For use by electronic technicians, hobbyists, electrical workers, aviation mechanics, those who work with small objects or in confined areas.
End-cutting nippers – Feature powerful leverage for sharp, clean cuts close to the surface on wires, bolts, rivets.
Lineman's or electrician's pliers – Heavy-duty, side-cutting pliers designed for all regular wire-cutting needs. Have gripping jaws in addition to cutting edges. High-leverage lineman's pliers have rivet placed closer to the cutting edges to provide 50 percent more leverage.
Fence tools – Pull and cut staples in fencing. Feature two wire cutters, heavy head for hammering.
LOCKING TOOLS
Locking pliers – Adjustable, vise-type locking pliers can be locked on to a workpiece, leaving both hands free for work. They are versatile tools that can be used as pliers, a pipe wrench, an adjustable wrench, wire cutters, a ratchet or a clamp. Locking pliers are available in various sizes and shapes: curved jaw with wire cutter, straight jaw, long nose with wire cutter and bent nose with wire cutter. The locking principle also applies to locking clamps, which come in 4″, 6″, 11″, 18″, and 24″ sizes.
Some locking pliers use a mechanism that allows one- handed release of the locking mechanism; others require two hands to disengage. In addition, many locking pliers provide a wire-cutting function, some from a full range, others from a restricted range, of jaw settings.
BOLT CUTTERS
Heavy-duty cutters cut bolts, rods, other metals from 1/16″ to 5/8″ thick.
They are made from drop forged tool steel from 18″ to 42″ long. The longer cutters have greater strength. Special leverage joints allow great pressure to be applied with minimum effort.
End-cut cutters operate similarly to end-cut pliers, with special jaws available to cut special metals.
SNIPS
Snips are designed for cutting sheet metal, sheet brass, copper, plastic cloths and many other materials. They are available in five types:
Straight or regular – Used for all straight cutting jobs.
Combination pattern – More versatile than regular snips; used for straight and moderately irregular cuts.
Duckbill or circular – Used for cutting circles, other curved designs.
Aviation or compound leverage – Come right or left-handed or straight; used for cutting curves or straight. Cut easier because of compound leverage.
Offset snips – Have offset handles to keep hands above work. They are designed especially for long, inside cuts and are available for right or left cutting.
Quality snips have hot-forged, special steel blades properly heat treated to provide long-wearing toughness. Pivot bolts are tightened precisely for the best cut without binding and then locked into position. Handles should be hand contoured.
Aluminum snips with hardened steel blades offer the advantages of lightweight and replaceable blades.
---
Check your state and local codes before starting any project. Follow all safety precautions. Information in this document has been furnished by the North American Retail Hardware Association (NRHA) and associated contributors. Every effort has been made to ensure accuracy and safety. Neither NRHA, any contributor nor the retailer can be held responsible for damages or injuries resulting from the use of the information in this document.