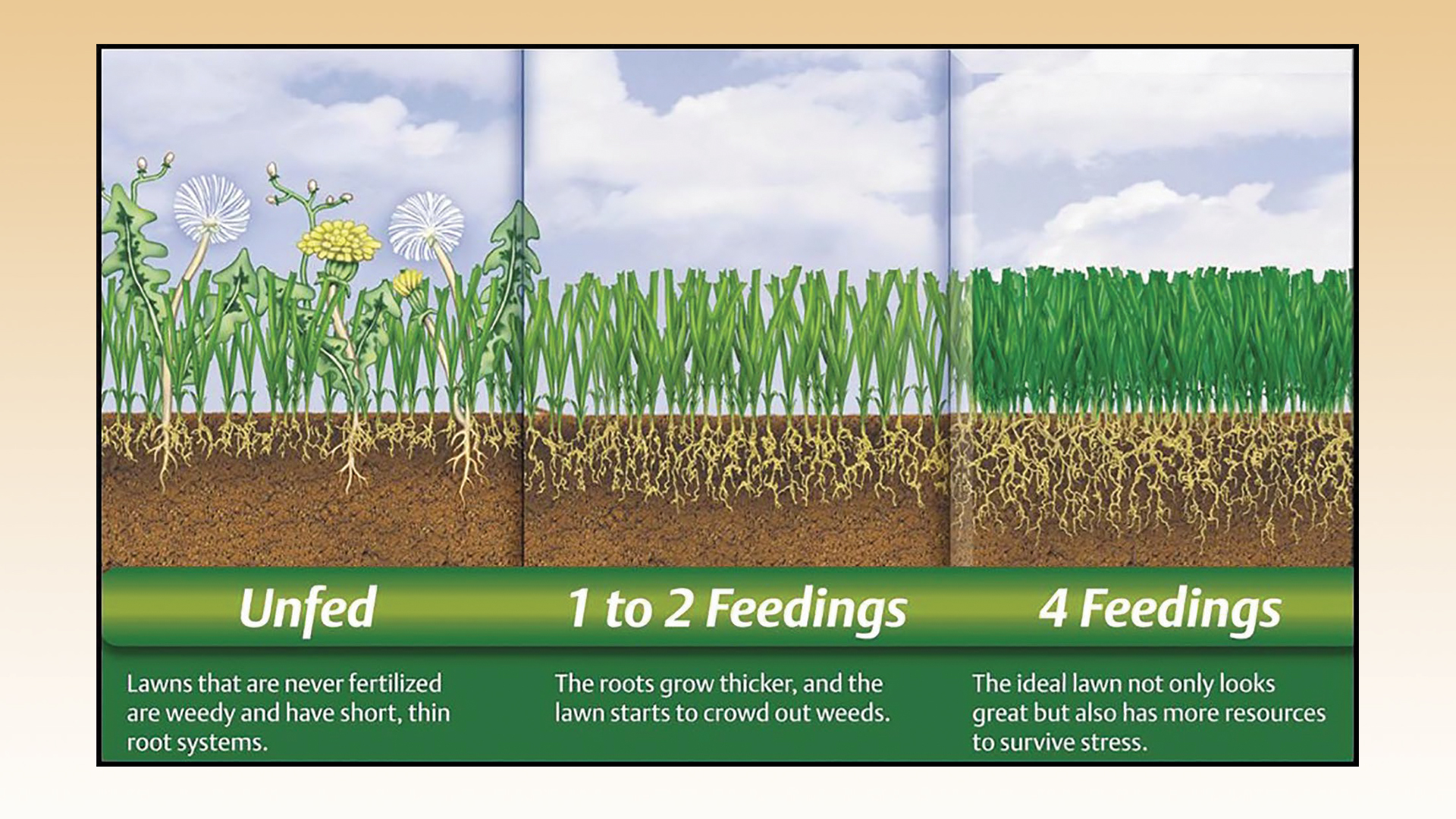 What To Know Before You Grow
A Full Course Meal For Your Lawn
Eating healthily can lift your spirits and make you feel invigorated, but a single meal won't change your lifestyle. Would you be surprised to learn your grass works the same way?
It's not enough to feed your lawn at the height of summer; you have to prepare a multi-course meal throughout the growing season to ensure a beautiful and healthy yard. Here's what to know before you grow: with our products and expertise, your lawn will come to life.
Set the Table
Before sitting down for the coming feast, you need to "meal prep" your yard with some essential maintenance. Rake away scattered debris such as leaves, branches, twigs and dead grass. Bring out the lawnmower to make the first cut of the season, but be sure to adjust the height of the cutting deck. Cutting grass too short stresses the plant and allows more sun to reach germinating weeds. You should aim for a height of about three inches in general, and add another half inch or so during periods of high heat to better insulate grass roots and reduce water loss.
Speaking of hydration, watering three times per week for 30 minutes is generally sufficient, and the best times to water are early morning and early evening. Watering during the heat of the day wastes the water and doesn't benefit the grass as the water evaporates too quickly to reach the roots.
Bon Appétit: Scotts® 4-Step® Lawn Care Program
Now it's time for your grass to eat. We can help you create the outdoor space of your dreams with the Scotts® 4-Step® Lawn Care program, which provides an easy-to-follow guide for achieving an ideal lawn.
Here's how it works:
Step® 1 Crabgrass Preventer with Lawn Food. After a long winter, this initial course should be served up in April while the temperatures are still cool. It is designed to improve your lawn's ability to absorb water and nutrients and prevent crabgrass for up to four months.
Step® 2 Weed Control Plus Lawn Food. Come May and June, it's time to protect against the weeds you see and the weeds you don't. This second application helps build thick, green turf from the roots up.
Step® 3 Lawn Food With 2% Iron. This third course is made to protect against the dog days of summer and should be served between July and August. It gives your lawn a mid-season boost and protects against heat and drought.
Step® 4 Fall Lawn Food. Winter is coming. This final course, when applied in September or October, helps strengthen your lawn before the winds of winter begin to batter it. It helps build stronger roots, so you'll see a thicker, greener lawn next spring.
Additional Dietary Considerations
Your lawn's dietary considerations can differ significantly based on where you live. For instance, Scotts® Winterguard Fall Lawn Food allows your lawn to absorb nutrients to protect it from the harsh winter, while Scotts® Bonus S Florida Weed & Feed is tailored to help your lawn withstand the stress of heat, drought and family activity. Our product variety ensures that your lawn remains healthy and vibrant regardless of your climate.
Experience the Difference at Rocky's
It may seem like a lot to take in but with Rocky's Ace Hardware by your side, you'll be a lawn care expert in no time. If you need help picking out the right products for your lawn, visit in-store and speak with one of our Red-Vested Heroes and we'll make sure you take home exactly what you need. We know that not all lawns are the same. Our associates go through hours of training so we can customize a solution to give you a lush lawn all year long. If you're ready to care for your lawn this year, come down to your local Rocky's or give us a call to see how we can help.