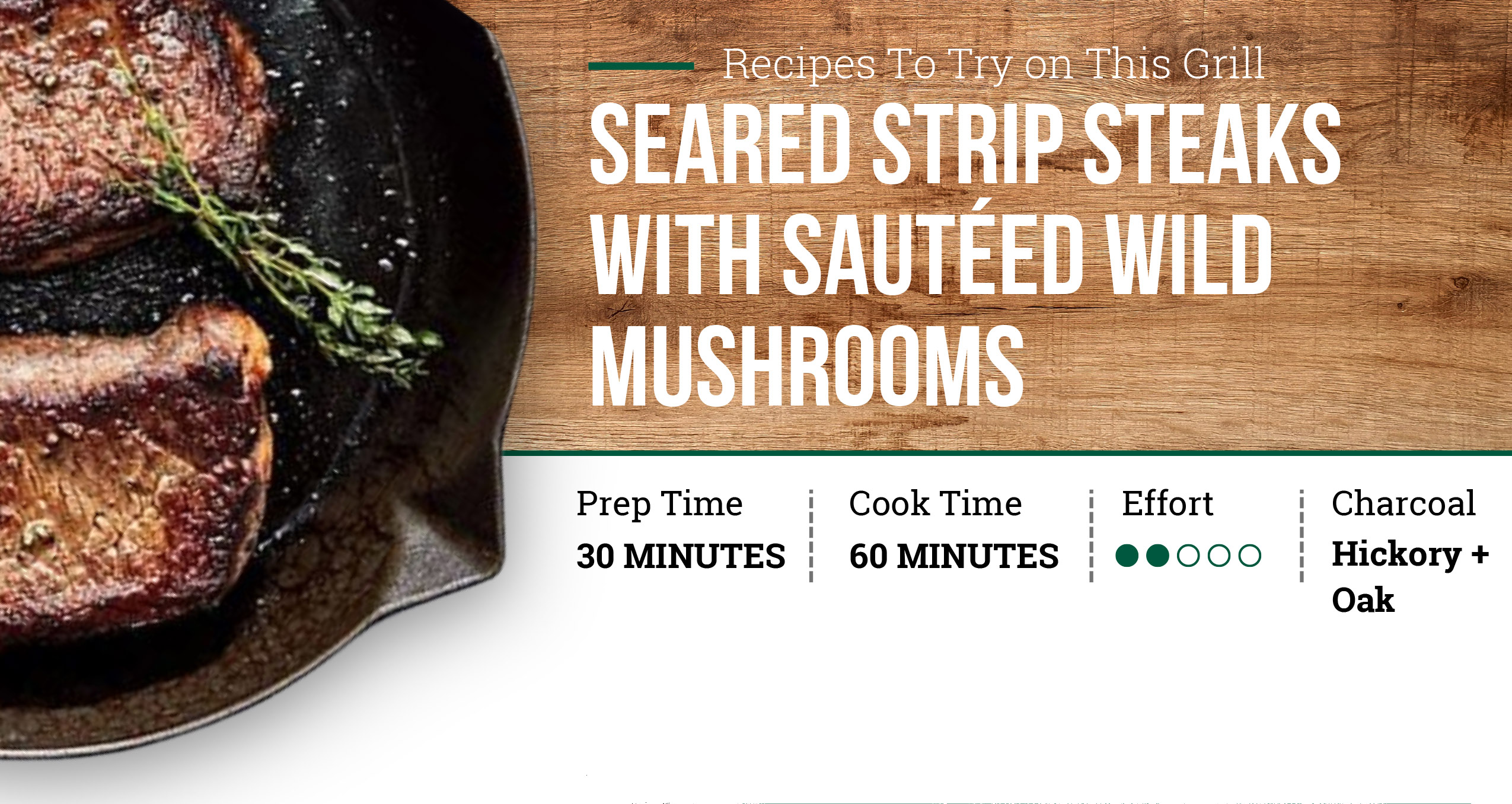 THE INGREDIENTS
2  1-in New York strip steaks
2 tbsp butter or olive oil
1 cup asst wild mushrooms (shitake, enoki, cremini, or morel)
1 cup sliced portabella mushrooms
1 tsp chopped fresh or dried parsley
1 tsp dried thyme
BGE Ancho Chile & Coffee Seasoning
Salt and pepper to taste
STEPS
Set the EGG for direct cooking without the convEGGtor at 500°F/206°C; add the Dual-Sided Cast Iron Plancha Griddle to
the EGG to preheat.
Pat the steaks until dry. Season all on sides with Ancho Chile & Coffee Seasoning and rest the steaks at room temperature for 50 minutes.
Heat the butter or oil on the plancha. Carefully add the steak and cook, flipping once, until a golden-brown crust starts to develop, about 3-4 minutes total. Remove from heat to rest.
Add the mushrooms and herbs to the griddle and sauté until golden brown. Push mushrooms to the side and add the steaks back to the griddle, basting with butter or oil. Continue searing and basting until an instant read thermometer registers 120-125°F/49-52°C for medium-rare, 6-10 minutes total.
Remove the cast iron griddle from the EGG and spoon mushrooms over the steak and let rest 5 to 10 minutes before serving. Serve your strip steaks with your favorite veggies, seasonal salad, or roasted potatoes.
Find more recipes and information on Big Green Egg here!