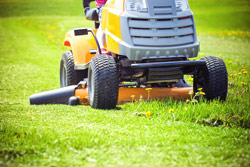 Even though many people only worry about their lawn in the spring or summer, or when it turns brown, year-round lawn care can actually mean less work and fewer problems, because it keeps your grass strong and healthy. Strong grass is much less susceptible to drought or disease. Just follow this simple schedule to keep your lawn looking its best.
EARLY SPRING: Repair winter damage. Treat with pre-emergence crabgrass killer, insecticides; fertilize and reseed if necessary.
LATE SPRING: Kill broadleaf weeds; fertilize lawn and flowers.
EARLY SUMMER: Water generously and often; fertilize and apply post-emergence herbicides and insecticides as needed.
LATE SUMMER: Watch for sod webworms and other insects; fertilize and water heavily.
EARLY FALL: Seed and fertilize; prepare for winter by mulching and pruning various shrubs and trees.