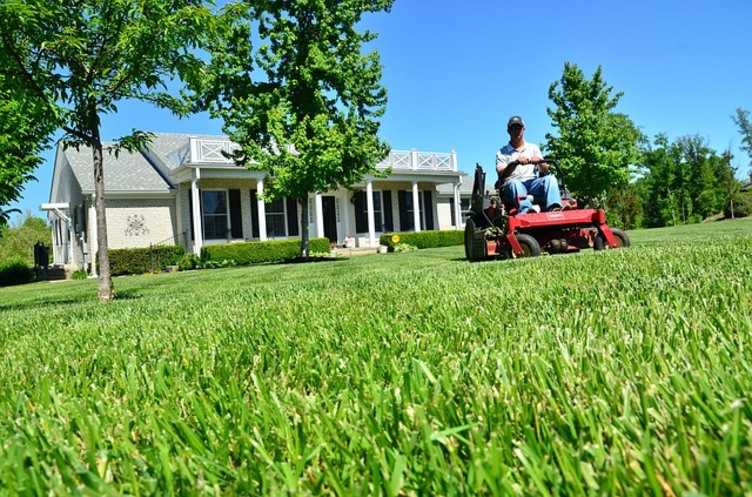 A green lawn begins with a healthy amount of work and dedication.
A healthy green lawn is rarely an accident; homeowners must put time and energy into the lawn's upkeep. Good maintenance starts with equipping yourself with the tools needed to do the job, including fertilizer for grass. Once you have the right tools, it's just a matter of setting aside enough time each day to work on your lawn.
Prepare Your Tools
Spring is an excellent time to go through your lawn care supplies and repair or replace broken or depleted items. Making sure that your lawnmower is in good working condition should be first on your checklist. At a minimum, you will want to change out the spark plug, sharpen or replace the mower blade, and change out the oil and gas. Take a trip to your local hardware store to pick up any lawn care products that you need for the coming year, including lawn fertilizer.
Clear the Weeds
Weeds are invasive and harmful to your lawn. Running your lawn mower over the weeds will remove the tops, but the roots will persist and grow again. Use a weeding tool to dig into the dirt and remove the root and the rest of the plant.
Fix Problem Areas
Bare spots and dead grass are fixable problems, but it may take some time to find the right solution. Planting grass seeds in the early spring may help, especially if you are dedicated to giving the seeds enough water after the initial planting. Laying down sod can provide an immediate fix for bare spots, but you'll need to keep it damp and avoid walking on it for the first couple of weeks.
Use Good Mowing Techniques
Cutting too much grass when you mow can weaken the grass and make it more susceptible to disease. Set the blade of the mower so that you only remove the top third of each grass blade. Adopting a few other mowing behaviors can help your grass, starting with mowing your grass only when it's dry. You should also vary your mowing pattern so that you're not always going in the exact same direction each time you mow.
Keep Your Lawn Watered and Fed
Water is an essential ingredient in a healthy and green lawn, especially when the summer heat arrives. Setting a watering schedule you can stick to will help ensure that your lawn is consistently watered. The evening and morning hours are an excellent time to water; you won't end up wasting water to evaporation in the midday heat. The water needs of your lawn will depend on the type of grass that you have, but most lawns require an inch or two a week during the summer. Applying a round of lawn fertilizer to your lawn in the spring will help start the season off with a healthy lawn.
A healthy lawn looks fantastic and gives you plentiful space to enjoy during the warm months. If you need more lawn care products, including fertilizer for grass, head to Rocky's Ace Hardware for your lawn supplies and advice from our experts.