GRASS SHEARS
Three widely used cutting actions for grass shears are draw cut, scissor action and leverage-assisted action.
Draw-cut trimmers have a stationary lower blade and moving upper blade, operated by an up-and-down squeeze on the handle. Blades are tempered, hollow-ground steel to hold cutting edge.
Draw-cut trimmers are usually considered better quality and have higher prices than scissor trimmers.
Scissor-action shears have two moving blades and work much like ordinary household scissors-with side-to-side pressure.
Although some manufacturers still make quality scissor shears with hollow-ground blades, many of these trimmers have lower-quality stamped blades that will not hold a sharp edge.
Leverage-assisted trimmers use a between-the-handles cam with an off-center pivot that increases the cutting efficiency while reducing the effort to squeeze the handles. Variations of this design include one where a rod pulls the blade like the draw cut and one which pushes the rod towards the blade with a significant increase of leverage. This shear has deep bevels, hollow-ground tempered stainless-steel blades with hand-honed edges.
All of these trimmers incorporate a safety lock or catch to hold blades together when not in use.
Long-handled grass shears-same operating action as the short handled ones-relieve tiresome crouching when there's a lot of trimming to do.
Cordless electric grass shears and long-handled string trimmers have gained wide popularity in recent years.
HEDGE SHEARS
Hand-operated hedge shears have a scissor-like cutting action. Blades are from 6″ to 10″ long, some with serrated edges, others with notched positions for bulk cuts, or arc-edge blades that have two curved blades that pass through growth from either side.
Most shears have one cutting and one holding blade. The arc edge has two cutting blades.
High-quality hedge shears have bumpers or metal shock springs to take some of the shock out of the cutting action. High carbon steel blades in the better quality shears are fully heat treated to hold their sharp edge longer. Both wood and steel handles are available in various lengths.
Variations of hedge shears are an evergreen shear which has a longer handle and a multiple-pivot leverage system shear that increases leverage.
PRUNING SHEARS
Hand pruning shears come 6″ to 9″ long, with blade and anvil (or draw cut) and hook and blade (or bypass) cutting patterns.
Draw cutting results from one sharp cutting edge moving firmly against a non-cutting anvil.
Bypass cutting moves one sharpened blade against a stationary curved hook. Although they are difficult to sharpen, most professionals and rose growers prefer this pattern, because it cuts closer to the stem.
Top-quality pruning shears offer specially ground, hand-honed blades for extra cutting strength; blades perfectly balanced against each other or the anvil; Teflon-coated cutting blades for easier cutting; rubber- or plastic-covered handles and adjustable tension-joint assemblies. A sap groove on bypass blades eliminates gummy buildup and makes pruning easier.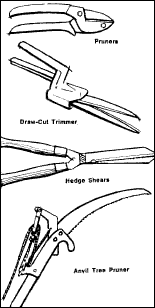 TREE PRUNERS
Tree pruners are pruning shears or a pruning saw attached to a long pole that will accept extensions or telescope- usual length is 6″ to 12″.
Leverage is essential. The length of the lever arm, multiple pivot points and the number of pulleys all increase leverage to make cutting easier. Gear-driven blades make cutting even easier. In addition, the compactness of the head adds convenience and maneuverability to cut in tight places.
A rope and pulley operate the cutter. The cutting mechanism is at the cutting head with rope extending the full length of the pole. High-quality rope and a gripping handle on the rope make cutting much easier.
Saws will cut limbs larger than 1 1/2″ thick and shears, depending on strength of construction and jaw opening width, will cut limbs up to 1 1/2″ thick.
PRUNING SAWS
Pruning saws are used to cut dry or green limbs from trees. In addition to the pole pruner, saws include curved pruner, double-edge pruner, folding pruner and long-handled pruner.
Blades come in lengths to 24″. Quality blades are flat ground tempered steel and handles are polished hardwood. Gear-driven assemblies are also available.
Steel-framed bow saws are also popular for pruning.
Some feature a high arch so all the blade length can be used for cutting and lever-type handles to hold blades at proper tension and to give easy blade changes.
LOPPING SHEARS
With their long handles for firm leverage and hard, tempered tool steel blades, lopping shears eat their way through heavy underbrush.
Handles are up to 30″ long and jaws will cut through limbs up to 2″ thick.
As with other pruners, most operate on anvil or bypass principles. There are various multi-power lopping shears. Gear-driven assemblies or a multi-pivot system give 300 lbs. of cutting power, three times that of conventional shears of equal length.
STEPS TO SUCCESSFUL PRUNING
1. Study the plant to decide what its pruning needs are. Information on the correct time to prune each plant is available to you through your local extension service. Decide how the plant grows and how you can maintain its natural form.
2. Make all cuts flush above a bud or on adjoining branches. Always cut above a bud that is pointing in the direction you wish that new branch to grow. The proper pruning cut will develop the shrub's proper shape, reduce disease problems and allow for stronger branch development.
3. Remove all dead or damaged branches first. Next remove (thin out) or cut back branches that detract from the tree's overall shape. These include branches that are weak or may cause future problems by competing for light or growing into other branches.
Treat all wounds larger than a dime with a good tree wound dressing.
WHEN TO PRUNE:
Major pruning on fruit trees should be done while the plant is dormant. Minor pruning on fruit trees can be done anytime.
Pruning most leafy shrubs should follow a renovation program. Remove one- fourth to one-fifth of the oldest, largest canes each year. If this is done the oldest cane in the shrub will the three to four years old. Keep only the strongest new canes for replacement and remove the weakest canes.
Shrubs like forsythia, flowering quince and pussy willow that bloom early in the spring should be pruned immediately after they bloom. Shrubs such as rose of Sharon and hydrangea that bloom later in the season should be pruned while they are dormant.
Most plants used in sheared hedges can be pruned throughout the growing season.
Some trees such as birch, maple, walnut, dogwood and elm should not be pruned in late winter or early spring when sap is moving, as they may "bleed" profusely. These trees should be pruned when they are in full leaf.
Annual and perennial flowers will also become more bushy and produce more flowers if new growth is pinched back. This will create a fuller plant. Pinching chrysanthemums should be discontinued after July 4.
Hybrid tea roses should be pruned back to 9″-12″ in the spring to a bud pointing to the outside of the bush. Make all cuts 1/4″ above the bud or branch to give strength and support to the new growth.
Remove old canes of climbing roses immediately after they bloom. Allow new canes to develop for next year's bloom.
Source: National Lawn and Garden Distributors Association with the aid of the Cooperative Extension Service Institute of Agriculture and Natural Resources University of Nebraska-Lincoln.
EDGERS
Hand edgers (round blade) consist of long handle; sharp, high carbon steel blade and turned step for better foot pressure and leverage. They function well for edging thick sod around walks, flower beds, trees and shrubs.
Rotary edgers come with single or double wheels. In the single-wheel model, a rubber-tired wheel moves along walk or driveway turning cutting blade against cutting edge. Teeth float above the bottom trench to cut grass without being clogged by stones, sticks and other debris.
Better edgers have high-carbon steel, self-sharpening blades; hardened wood or metal handles long enough to allow the user to walk upright; and cutting width adjustment.
Two-wheeled edgers give better traction, but are unhandy for edging around house foundation or trees.
WEED CUTTERS
Weed cutters cut thick, heavy weeds with a double-edge blade. Some blades have serrated edges. They are available in elliptical (oval shaped) and whip design.
Blades are forged from high- carbon steel, tempered to keep a sharp cutting edge. Weed cutters are usually preferred by persons unskilled with a scythe.
Similar to weed cutters are brush hooks, a heavy-duty tool for hacking through unusually heavy brush, and grass hooks, double-edge blades on long handles that slice through grass.
TOOL MAINTENANCE TIPS
Any tool performs better if it is kept in top condition. Follow these tips for season-end maintenance:
Clean up all cutting or bladed tools-clean off dirt and rust and sharpen edge.
Condition blades by spraying with rust-preventive lubricant or rust-inhibitive paint.
Condition wooden handles by sanding off splinters and rubbing with linseed oil.
Clean rakes and straighten bent tines.
Clean garden sprayers by flushing chemicals out with clear water or with a household detergent.
Drain and properly store garden hose.
---
Check your state and local codes before starting any project. Follow all safety precautions. Information in this document has been furnished by the North American Retail Hardware Association (NRHA) and associated contributors. Every effort has been made to ensure accuracy and safety. Neither NRHA, any contributor nor the retailer can be held responsible for damages or injuries resulting from the use of the information in this document.